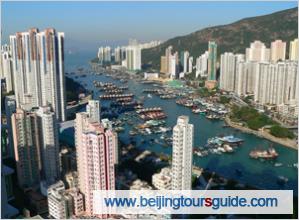 Aberdeen is the central section of the island of Hong Kong. Nowadays, Aberdeen is full of high dense residential skyscrapers and some office buildings and factories. Its style of fishing village and the delicious seafood earn the place a good reputation among foreigners. Aberdeen became one of the must-visiting site in Hong Kong.
Aberdeen was called "Shek Pai Wan" before British invaders landing the island. In 1841, a group of British soldiers landed the place and asked locals what the name of the place was. They got the answer "Hong Kong". Actually, "Hong Kong" was just the name of that small area of the entire island at that time. But British soldiers began to call the island "Hong Kong", and their landing site got the name Aberdeen, in order to memorize Lord Aberdeen, foreign minister of Britain Empire at that time. When Hong Kong was occupied by Japanese invaders 100 years later, the place had another name called "Yuan Hong Kong" (Hong Kong's Origin). After the end of the war, Aberdeen was reused as the title.
Aberdeen had a long residential history. Before British came to the place, there were fishermen settling here. After Hong Kong became a port, Aberdeen began to develop industry. It had the first dock of Hong Kong. It had a paper factory and technical schools. Later, Aberdeen gradually developed to a modern residential area, with many sites attracting tourists. Aberdeen Typhoon Shelter is a famous one. Hundreds of thousands of ships accommodate in the harbor, making the place a beach paradise during the sunset time. You can order a small ship or a motorboat to cruise the bay. Besides, there are parks, shopping area, seafood restaurants and many other sightseeing places in the region. You may feel the real Hong Kong at Aberdeen.
Prev:
Victoria Peak
Next:
Repulse Bay