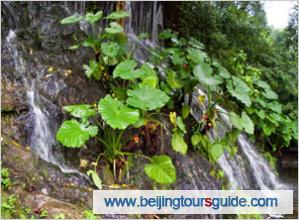 Yuexiu Park, named after Yuexiu Mountain, is reputed for the crystal water, hills and important historical relics. It is the largest comprehensive sight-seeing park in Guangzhou Province.
There are 3 artificial lakes: Dongxiu Lake, Nanxiu Lake and Beixiu Lake. Nanxiu Lake is beautiful and a good place for painting and fishing; besides, a great lawn of 5,000 square meters is right along its bank. Beside Dongxiu Lake, facilities like children's playground, barbecue area, exercise center are set. Beixiu Lake is the best choice for boating lovers with shades drooping down. Yuexiu Park is a pearl of Chinese classic garden due to its verdant trees, thriving bamboos, and fragrant flowers, pavilions, corridors and towers. Every year, a garden exhibition is held, attracting millions of tourists.
The main places of interests include the Five-Ram Sculpture, Zhongshan Monument, Chen Clan Monastery and Tomb of King of Nanyue.
Besides, a large stadium is located in the south part of the park with the capacity of 30,000 persons, and a swimming pool in the west part with the capacity of 5,000 persons. Guangzhou Gallery is also in the park and displays the art works of Chinese famous painters of different times.
Prev:
Sun Yat-sen Memorial Hall
Next:
Six Banyan Tree Temple