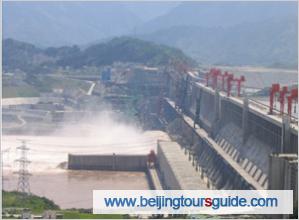 The Three Gorge Dam is the largest dam in the world. The Dam is as wide as the Golden Gate Bridge and twice as tall, capable of generating 18 giga-watts of hydro-electric power.
The Three Gorges Dam Tourist Area was opened in 1997, covering an area of 15.28 square meters. It contains five parks. They are Three Gorges Exhibition Hall, Tanziling Park, 185 Park, Jinba Park and Interception Memorial Park. Based on the world's largest hydro junction project, the tourist area reveals the culture of the project and water conservancy in an all-round way. It provides a combination of multi-functional service of sight-seeing, science and education, entertainment, refreshment, perfectly combining modern project with natural scenery and human landscape. Therefore, it is a traveling paradise that tourists from home and abroad long to go.
Standing at the top of the Dam which is 185 meters above sea level, you can marvel at the flood discharge downwards in a close distance. Feeling the tremendous force growling under the feet is more direct and magnificent. In the meantime, contrasted with the near overwhelming backwash, the river surface far away is quiet and peaceful. All of a sudden, the tourists may feel the gorgeous blend of vitality and serenity. If it is good weather, a colorful rainbow will appear in the water fog above the flood. Gentle wind present by the river soothes the soul and the lullaby murmured by the backwash calm the heart. All the feelings, exited or surprised, proud or exhilarated are all mingle with the span of water. Maybe only after you roaming in the hug of the Dam can one genuinely feel the line "Should the goddess be not ill today, she will marvel at the world's new array".
The sightseeing position locates in the front of the left bank electricity generating set factory of the Dam. It is the perfect place to admire the Dam and water discharge. Stand on the sightseeing flat and look upwards, the tourists can see a magnificent-than-ever 185 meters high Dam. The spray under the factory and the systematic transmission line show that powerful electric current are being transferred to all around China relentlessly. Due to the change of appreciation angle, the imposing water discharge can render the tourists excited with heart afire. They can experience the great power of the Nature. However, with unchallenged wisdom, human beings can finally conquer the Nature.
Prev:
Shennong Stream
Next:
Ciqikou Old Town