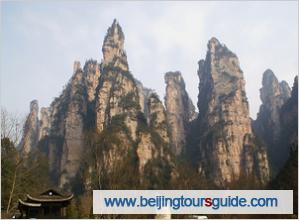 Tianzi Mountain lies in the north of Yuanjiajie. It is named after the farmer Xiang Dakun of the local Tujia minority, who led a successful farmers' revolt and called himself 'tianzi' (son of heaven). The mountain has nearly 100 natural observation platforms, over 2000 peaks and dozens of waterfalls and springs, covering an area of 67 square kilometers. The yearly average temperature is 12℃, freeze-up 60-80 days.
What is interesting, the landscapes here vary in different seasons and even in one day. Just after the rain, when standing in Tianzi Mountain, surrounded by mist and cloud, peak forests in front, you feel like in a wonderland. Sunrise or snow is also the best moments for the sightseeing. The typical attractions are KongZhongTianYuan (terraced fields in the sky), YuBiFeng (emperor's brush pens), ShenTangWan (bay of myth).
Tourists can take the Austria imported cable car to reach a perfect angle to see the stunning views. In some parts the cable cars will be suspended over half of the sky as it is so steep.
Prev:
Mihuntai (the stage of lost mind)
Next:
Yellow Dragon Cave