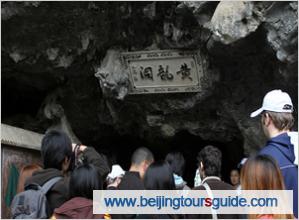 Yellow Dragon Cave is one of the foremost attractions in Zhangjiajie and is world reputed as a wonderland. It was appraised as the most beautiful karst cave in China in 2005.
The cave is divided into four layers, covering an area of about 20 square kilometers. It is composed by one reservoir, 2 rivers, 3 ponds, 4 waterfalls, 13 halls, 98 corridors, dozens of peaks, hundreds of white jade pools and thousands of stone formations including stalagmites, stone flowers, stone curtains, stone branches, stone pearls, stone corals, etc. It is rare in the world that the cave contains all the mentioned things in the speleology, thus got the name of 'all-round champion among the world's karst caves'.
The Dragon King's Palace hall is distinctive. Ding Hai Shen Zhen (sea-calming needle) and Long Wang Bao Zuo (Dragon King's Throne) are its typical sceneries. Ding Hai Shen Zhen stands 12 meters high at a diameter of 10 cm, which is insured for the value of one hundred million RMB. Long Wang Bao Zuo is the largest stalagmite in the cave.
There are lots of myth about this cave, of which the local villagers believe it was the holy home for yellow dragon and spirits. It is the longest one in Asia, 2,400 meters in land and 800 meters in water. Discover the incomparable realm by yourself!
Prev:
Tianzi Mountain
Next:
Red Scarf Park