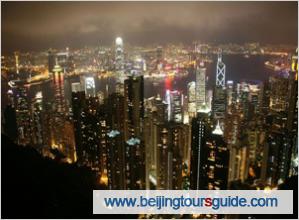 Victoria Peak locates at the central part of Hong Kong Island. Locals are used to calling it "the Peak". Victoria Peak is a famous site in Hong Kong. It is said that the Peak is the priority of your itinerary in Hong Kong.
Victoria Peak is the English version of the name. In Chinese, the name means "the Peace Peak". It is believed that in the past, the Peak had several other names, such as Yingtou Hill and Cheqi Hill. After British troops occupied Hong Kong Island in 1840s, the Peak was named after Queen Elizabeth. And the English version of the name has lasted until nowadays.
Victoria Peak is 554 meters in height, serving as the highest point of the entire Hong Kong. The Peak is mostly famous for its perfect position to enjoy the charming night beauty of Hong Kong. The ancient style Lion Pavilion near the cable bus station and the Peak Park are the best places for watching. Every night, people come to the places and watch Hong Kong Island and Kowloon like two bright pearls acting in concert with each other. The high dense skyscrapers in Hong Kong Island are all brightly lit up. Ships and tankers get through the Victoria Bay one after another. The city's charming appearance is all in your eyes.
There is a Lugard Road to the sightseeing site. The Road is accompanied by plenty of trees and flowers. The beauty of the modern miracles is right there through the space between leafs. On the top of the hill, a lot of facilities are set to satisfy tourists' need for appreciating the beautiful landscape. The newly-built Peak Tower is also enjoyed by tourists, where they can get a full view of the entire area.
You can take cable bus to Victoria Peak. From 1888, the cable bus was set to transport passengers to the top, and has been used for safe for more than 120 years! There is a distance of about 1.4 km from the bottom to the top, and taking cable bus just costs you 4 minutes. The open time of the bus starts from 7 o'clock in the morning and ends until midnight. You can choose the proper time for your Victoria Peak visit.
Prev:
Fubo Hill
Next:
Aberdeen