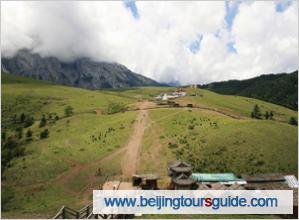 Yak Meadow, an important component of Jade Dragon Snow Mountain Scenic Area, lies at the northern tip of Jade Dragon Snow Mountain. It begins from Liming Road in the east, and ends at the Black Water River in the south. Its west is the east side of Jade Dragon Snow Mountain and its north is the upper part of Xuehua Village. It covers an area of 16.6 square kilometers. Main residents in this scenic area are the Yi minority nationality and Tibetans.
With customs of primitive simplicity, and strong minority nationality's culture, the villagers mainly live on husbandry. The main sight of the Yak Meadow is a representative pastureland. The scenery of snowfield in the high mountain accompanies the brook of the Black Water River. Taking the natural and quiet primitive forests as the center, scenic spots in Yak Meadow are colorful and manifold.
On the Yak Meadow, full bloom flowers are as brilliant as brocade in spring. In summer, the grass is turning into a green carpet. In autumn, all plants are growing luxuriantly. In winter, the meadow is dressed in white snow. The picturesque Yak Meadow is an incomparable holy place for sightseeing and vacationing.
Major scenic spots in the Yak Meadow are as follows: the Yak Snowfields, the Yak Snow Valley, the Black-river Secluded Valley, the Ice Bridge of Black-river Waterfalls, the Lake of Snow-flakes, the Jasper Lake, the Yak Brook, the beautiful grassland, the romantic mountain flowers, Lijiang hemlock firs , Chinese larches, the yellow oaks, spotted ethnic villages and Tibetan folk customs.

Prev:
Dongba Museum
Next:
Jade Dragon Snow Mountain