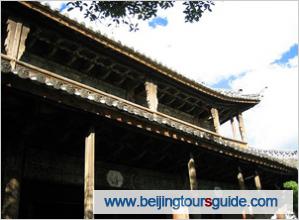 Dongba culture is the civilization of the Naxi ethnics. Naxi is a minority with a long history. The Dongba culture is a most inclusive term referring mainly to the language and scriptures. The language is actually coming from 1, 400 pictures' depictions. Characters and symbols were researched by experts. It is by now the only living hieroglyph in the world and is regarded as a precious cultural relic of mankind. On August 30, 2003, the Dongba classical literature was accepted as a written world heritage by UNESCO.
The Dongba Culture Museum near Yuquan Park is a great place to admire the famous hieroglyphs and other ritual articles of Naxi. Dongba Museum has been considered as the sanctuary of the culture of Naxi ancient culture. It holds a remarkable collection of Naxi relics and cultural display. Tourists have an opportunity to explore the rich Naxi minority culture, and learn about the "Wood and stone Prints" of pictographic characters.
In this museum, you can observe the footprint of history, and your wisdom will also be inspired. This museum is the witness of the historical social change of Lijiang. You can trace the history of Lijiang by appreciating the ancient rough axes, the rusty rifles, the Wufeng Building, the monument lying on the riverside of the Golden Sands River commemorating the crossing-river battle of the red army, the boorish but magnificent Baisha murals, etc.
The picture-like pictographs is the infant stage of Human characters. It is the eternal utterance of history, telling us the wisdom of ancient human beings. More than 1,000 scrolls of Dongba scriptures have been collected in the museum, covering the branches of Astronomy, Geography, Literature, Art, History, Religions and so on.
This museum features exhibits of Naxi clothing and jewelry, Dongba pictographic script, unearthed artifacts from old Li Jiang, and a display claiming the region is the real Shangri-La. Explanations are in English. At the museum shop you can have a piece of Dongba calligraphy drawn for you by an 85-year-old Dongba shaman for about ¥100 ($13).

As the only Dongba Cultural museum in China, Dongba museum is the most worth-visiting museum in Yunnan. Don't miss it when you are in Lijiang.
Prev:
Shuhe Naxi Village
Next:
Yak Meadow