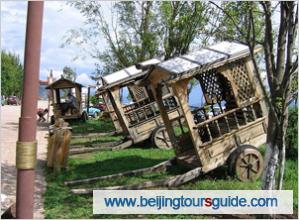 Shuhe Naxi Village, also known as Longquan Village, is located 4 km to the northwest of Lijiang old city. The village is the earliest habitation for the Naxi ancestors in Lijiang, and maybe the most well-preserved one along the Tea-Horse Ancient Road.
Opened during the Tang Dynasty(618-907), the Tea-Horse Road stretches from Xishuang Banna of south Yunnan via Dali, Lijiang, Diqing to Tibet, passing through the temperature zones of subtropics, temperate zone and cold temperate zone, with an elevation of about 100m up to 8,000m. It is the living specimen depicting the transition of farming civilization to commercialized civilization, and is also the model market town opening to the outside world and becoming a dynamic place for caravan travel. Shuhe Naxi Village is named after the mountain behind it, meaning "the village under a summit" in Naxi language. With a general jurisdiction area of about 10,000 square kilometers, the village is home to about 1,000 families, 3,000 people.
If Lijiang old city is said to be a more and more bustling city, then Shuhe Naxi village can be reputed as a truly quiescent village. It can be said that Shuhe Naxi village is the most charming mountain village across China. You've got to spend at least a night in this village.
Prev:
Wood Mansion
Next:
Dongba Museum