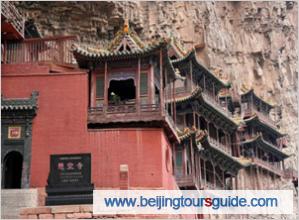 The Hanging Temple is an ancient temple built into a cliff (about 50m above ground) at the foot of Hengshan Mountain, 65km from downtown Datong City. It was built in the later Northern Wei Dynasty and has a history of over 1,500 years. Along with Yungang Grottoes, the Hanging Temple is one of the main tourist attractions and historical sites in Datong area.
Two major characteristics are for this temple. First lies in its architectural achievements. Building experts from lots of countries came to visit the temple. In their opinion, the Hanging Temple is a mixture of mechanics, aesthetics and religion, which is rare. The whole temple is in a wooden framed structure. It is supported on cantilevers: horizontal holes are chiseled into the cliff face then square beams are inserted and wedged firmly in place; the beams support the boards, pillars and frames of the temple. The other novel point is the vertical wooden poles under the buildings, which appear to be supporting the temple but they actually do not carry substantive loads. They were built to lessen people's fear in the hanging temple.
The temple is also notable for its integration of Buddhism, Taoism and Confucianism elements. The statues of Sakyamuni, Confucius and Lao-tze appear together, which is particularly rare in China. In addition, there are 40 halls containing about 80 sculptures made of copper, iron, terracotta, and stone, vividly carved.
Prev:
The Great Wang's Quadrangle
Next:
Yungang Grottoes