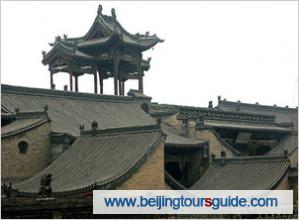 Located 35km from Pingyao City and 140 km from Taiyuan City, Shanxi Province, the Great Wall's Quadrangle is the luxurious residence of Wang Family built during 1762-1811, one of the four largest families of Qing Dynasty (1644-1911) of Shanxi.
The quadrangle occupies a total area of 250,000 square meters, much larger than the imperial palace -Forbidden City in Beijing. Over more than 10 years since its opening, the compound has won great reputation as a preeminent Chinese traditional architecture relics and folk house art treasure, thus it gets the name of 'Chinese Folk Forbidden City'. Everywhere reflects the refined and exquisite sculptural art skills in stone, wood and brick.
Today, three of its architectural complexes are open: Hongmen Bao (dragon-like layout), Gaojia Ya (phoenix-like layout), Chongning Bao (tiger-like layout). Besides, Wang's ancestral temple is the rest place of Wang's ancestors and has received ten thousands of their descendants from abroad for a prayer. Together with others, there are 231 courtyards and 2,078 houses open to public, covering an area of 80,000 square meters. Hongmen Bao has a layout of the Chinese character of Wang'王'and is the only Wang family culture Museum home and abroad. Gaojia Ya is so complex that gives a feeling like a labyrinth. Chongning Bao is distinctive for the Liqun Gallery built there; Liqun is a famous contemporary Chinese painter.
Prev:
Qiao Family's Compound
Next:
Hanging Temple