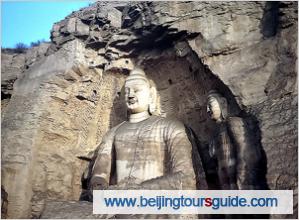 Located 16km west of Datong City, Yungang Grottoes were carved out of the base of Wuzhou Mountain, which is one of the three most famous ancient sculptural sites of China along with Longmen and Mogao Grottoes. In 2001, the Grottoes were included in the UNESCO World Heritage Site.
The marvelous architecture has 45 caves, 252 niches containing over 51,000 Budda statues, which extends about 1 km. Most of the grottoes were constructed during the Northern Wei Dynasty (386-557). The site was a treasure house of cave art that combines traditional Chinese art forms with foreign influence, particularly Greek and Indian. Statues here are noted for their life-like and vigorous features, which are in various expressions, gestures and sizes. The sizes of Buddha range from 2 cm high to 17 m high.
The Grottoes are divided into east, west and central parts, and are numbered from east to west. Most of the grottoes are in the western part, and each has its own character. The 'Taoyao Five Caves', earliest built by a famous monk named Tanyao, is one of the most attractive section of Yungang Grottoes. Each cave was engraved one Buddha image, modeling five emperors of Daowu, Mingyuan, Taiwu, Mujing, and Wencheng. These five caves are grand in size and spirit, distributed in Grottoes No. 16-20.
Prev:
Hanging Temple
Next:
Nine-Dragon Screen