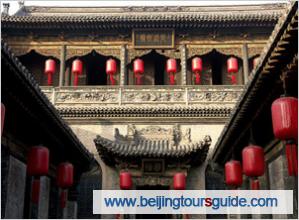 Qiao Family's Compound, was the residential house of the famous merchant Qiao Zhiyong of Qing Dynasty.
Qiao Zhiyong did business based on the principle of being modest, industrious and generous, which led the family into its 'golden age'. His compound was so large and magnificent but just equaled less than one percent of the family's fortune. Built in 1756, it was the typical sample of big families of that time. It was in a courtyard architectural style that had been popular in China for nearly two hundred years. The courtyard occupies an area of 8,274 square meters with a construction area of 3,870 square meters. It consists of six main courtyards and twenty smaller courtyards containing 313 rooms. The walls of the house are characteristic, which are 10m high the same as the house, out of safety considerations. This kind of walls was called as Daughter Wall for the reason that: girls of large families in ancient China were usually forbidden to go outside but they were so curious about the outside world that they climbed up to the high wall for a view.
The Qiao Family's Compound is renowned not only for its large scale but for the exquisite skill in the brick carving, wood carving, murals and tablets.

Prev:
Jinci Temple
Next:
The Great Wang's Quadrangle