Day 1 Entry Beijing
Today Arrangement: Welcome to Beijing! Our private English-speaking guide and driver will pick you up in time at the airport and transfer you safely to the hotel. A paper board with the sign of BeijingToursGuide.com and your name will be held high at the airport exit.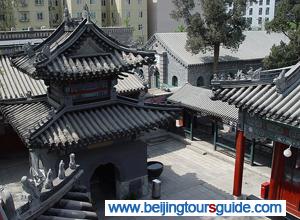 Niujie Mosque
Day 2 Beijing
Meal(s): Lunch & Dinner at Muslim Restaurant
Attraction(s): Badaling Great Wall, Niujie Mosque, Hutong tour with rickshaw, Pearl Factory
Today Arrangement: Let's spend the fresh morning in Badaling Great Wall, a most popular section of the Great Wall for the tourists. More than 300 celebrities have visited here such as President Nixon, Lady Thatcher. Leave for Niujie Mosque after lunch, which is the largest and oldest mosque of Beijing. A Hutong tour with rickshaw will be very interesting and meaningful to read more about old Beijingers' life. Be seated in the rickshaws, we will pass through lines of Hutongs, watch the beautiful Shichahai Lake and the shore side characteristic buildings. Our final tour stop today is the Pearl Factory where to learn the delicate pearl processing craft and the according Chinese pearl culture.
Day 3 Beijing
Meal(s): Lunch & Dinner at Muslim Restaurant
Attraction(s): Tiananmen Square, Forbidden City, Temple of Heaven, Silk factory, Acrobatics Show
Today Arrangement: We arrive in the Tiananmen Square in the morning, the largest city square in the world; then is the tour in the nearby Forbidden City, the world famous palace of Chinese emperors. The afternoon starts the tour in the Temple of Heaven, a royal temple where emperors held prayer and sacrifice ceremonies to the Heaven for a good harvest. Then leave for the Silk Factory to appreciate the delicate silk manufacturing technology. Finally, enjoy a thrilling and professional Acrobatics Show after a Muslim dinner.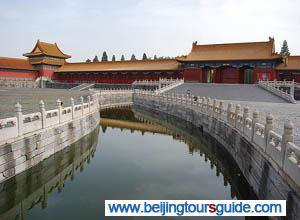 Forbidden City Golden Stream
Day 4 Depart Beijing
Meal(s): Lunch at Muslim Restaurant
Attraction(s): Summer Palace, Olympic Green
Today Arrangement: It is a really pleasant morning to be immersed in the world reputed royal garden- the Summer Palace, and also enjoy a cruise in the Kunming Lake for its surpassing beauty.
Finally is the tour in the Olympics Green where you could see the exterior appearance of the Bird's Nest and the Water Cube (going inside is not included).
After lunch at Muslim restaurant, our guide and driver will transfer you safely to the airport for departure. Wish you a pleasant journey and thanks for using with Beijing Tours Guide.