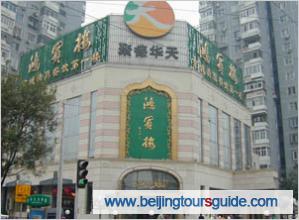 Location: No.11, Zhanlan Lu, Xicheng District
Tel: 68994560 / 68992569
Average Cost per Person: CNY 80
Opening hours: 1/F: 11am-10pm
2/F: 11am-2pm, 5pm-8.30pm
Opened in 1853, this restaurant has enjoyed a good reputation for over 150 years. It came to Beijing from original Tianjin invited by prime minister Zhouenlai 1955 and be praised as the prestigious Muslim restaurant. The restaurant occupies an area of 2,000 square meters (0.5 acres), three floors with 16 private rooms and guest tables in each three hall. 660 people can be accommodated here. The magnificent banquet hall with the chambers has a special national flavor.
It has accommodated many honored guests from home and abroad, including the former primer minister of UK, Edward Heath, Iranian President Ayatollah Ali Khamenei, Indonesian President Wahid, Malaysian Prime Minister Mahathir Mohamad, etc.
There are hundreds of genuine Muslim table delicacies offered here, cooking mostly with Grilled, burning, stewing, braise, blasting.
Recommended Dishes: Braised Shark Fin with Sliced Chicken, Stewed Sheep Head with Sauce in Casserole, Stewed Sheep Belly, Braised Deep-fried Cattle Tail in Brown Sauce.


Other Muslim Restaurants in Beijing:
Nanlaishun Restaurant
Xinjiang Restaurant
Jubaoyuan Restaurant
Huatian Youyishun Restaurant
Xilaishun Restaurant