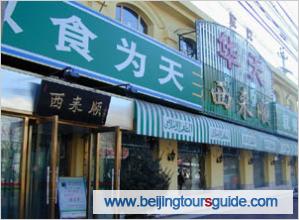 Location: No.194, Fuchengmennei Dajie, Xicheng District (Fuchengmen)/ No.116, Xinhua Jie, Hepingmen Bei, Xicheng District (Hepingmen)
Tel: 010-66015189/ 66014810 (Fuchengmen)
010-66015996/ 66015189 (Hepingmen)
Average Cost per Person: CNY 50
Opening hours: Daily

Xilaishun stands for the West Style of Moslem food with magnificent and delicate dishes. Xilaishun is good at rich variety, and integrates western cooking methods.
Founded in the 1930, Xilaishun is partially Chinese and partially Western, and is partially vegetable and partially meat. It is a good choice for people holding banquets, and small parties of friends. Xilaishun offers both traditional and new style Moslem food, Beijing Roast Duck, and chafing dishes. Foods made here are lite, tender and mellow, and are popular in Beijing.
The popular Malianliang Roast Duck is a must taste in this restaurant, the duck is made by a refined process, also with a real story in the Republic period: it's a particular dished for Malianliang by a cook named Chuxiang in order to express his thanks. The M. Roast Duck with the Kung Pao Chicken achieved golden medals in The Cooking Competitions of the world in 1986.
There are two floors in the restaurant with seating hall, and private rooms at second floor.
Recommend Dishes: Ma Lianliang Duck, Fried Sheep Fillet Slice, Mutton with Boiling Oil, Shark's Fin in Casserole, Braised Bird's Nest, Chrysanthemum Chafing Dish (named after the flower in autumn), Sault Chicken Wrapped with tinfoil, Sea Cucumber with Glutinous Rice Balls.


Other Muslim Restaurants in Beijing:
Hong Bin Lou
Nanlaishun Restaurant
Jubaoyuan Restaurant
Huatian Youyishun Restaurant
Xinjiang Restaurant