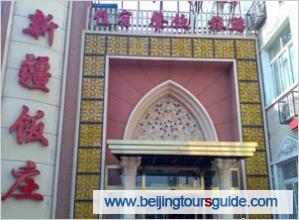 Location: No.1, Chegongzhuang Dajie, Beili, Xicheng District
Tel: 010-68362796
Average Cost per Person: CNY 50
Opening hours: Daily 10am-10.30pm
The Xinjiang Fanzhuang is located in the yard of Beijing office of Xinjiang province, you can find almost every snack in Xinjiang and a plenty of Muslim cuisines in this plain with exotic restaurant.
This restaurant more seems like a canteen with diversity kinds of Xinjiang delicious and other Muslim snacks.
The authentic Xinjiang cuisine will attract you. The lamb cooking skill is excellent, tender shish kebab, Lamb chops fragrance without greasy, roast leg of lamb will also make you slobber.
In addition of The Homemade yogurt is popular, with raisin and chopped peanuts contained within a wooden bowl, tastes cool and fresh. Xinjiang pancake package meat, the smell of cumin flavors you. Grilled fish is also a recommended dish, crisp outside and tender fish meat inside.
Many snacks can not be missed. Cheese cake with almond smells sweet, Crispy Durian Cake, biscuit, etc.
You could get some Xinjiang special selling outsides the restaurant.
Recommended Dishes: Kebabs, Saute Spicy Chicken with Potato, Acidophilus Milk, Pulling Noodles, Rice Eaten with Hand.


Other Muslim Restaurants in Beijing:
Hong Bin Lou
Nanlaishun Restaurant
Jubaoyuan Restaurant
Huatian Youyishun Restaurant
Xilaishun Restaurant