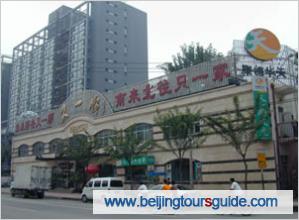 Location: No.28, Huangsi Dajie, Xicheng District
Tel: 010-82022934/ 62005848
Average Cost per Person: CNY 50
Opening hours: Daily 9am-9pm
Youyizhun restaurant is another Muslim restaurant in Beijing, set up in 1948, is popular with flocks of customs from all of the country and the world, Master Panchen Lama in Tibet have made a special trip to Youyishun restaurant, Former U.S. President Richard Nixon came to Youyishun during his visiting in China in 1973.
Warmly service and sufficient plenty of dishes gives you a various choices.
Braised oxtail: 70 yuan, tender, fresh and full of juice, each piece of meat is real taste. Cold cake with sesame: 10 yuan, every cake is full of sesame and hawthorn tablet, with red bean paste in, have a bite of it then feel cool. Roast leg of lamb: 50 yuan, crisp outside and tender inside, and the meat has been chopped into pieces for you convenience.
Recommended Dishes: Braised Oxtail, Cold Cake With Sesame, Cashew Prawn, Sautéed Ox Tripe with Coriander.


Other Muslim Restaurants in Beijing:
Hong Bin Lou
Nanlaishun Restaurant
Jubaoyuan Restaurant
Xinjiang Restaurant
Xilaishun Restaurant