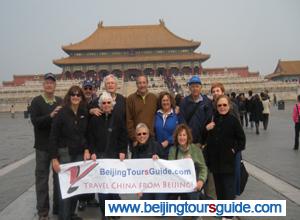 Our clients at Forbidden City
Day 1 Tianjin Port to Beijing
Meal(s): Breakfast, Lunch
Attraction(s): Tiananmen Square, Forbidden City
Today Arrangement: Our tour guide will meet you at Tianjin Cruise Port at 8-9am. Then transfer you to Beijing City. First, we arrive in the Tiananmen Square, the largest city square in the world; and then the nearby Forbidden City, the world famous majestic palace of Chinese emperors.
After the tour, transfer you to hotel.
Day 2 Beijing to Tianjin Port
Meal(s): Breakfast, Lunch
Attraction(s): Juyongguan Great Wall, Temple of Heaven
Today Arrangement: Have a fresh morning, visit the Temple of Heaven, a royal temple where Chinese emperors held prayer and sacrifice ceremonies to Heaven for a good harvest. Then we drive to Juyongguan Great Wall, one of the three greatest passes of the Great Wall of China; besides a military stronghold, it is also a beautiful scenic spot and was named as one of the eight best scenery of Beijing as early as in the Jin Dynasty (1115-1234). After the tour, transfer you back to Tianjin port on time.

This tour fit Volendam, Amsterdam and Celebrity Millennium cruises perfectly.