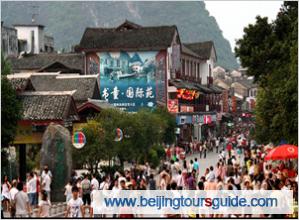 West Street is the oldest street in Yangshuo with a history of more than 1,400 years. Situated at the center of Yangshuo County, West Street has become, since the 1980's, a window of eastern and western culture and the biggest 'foreign language center' in China. West Street is the most prosperous district in Yangshuo, and, each year, approximately 100,000 foreigners come here on their travels or to attend advanced studies. Visitors are attracted to West Street by its unique mix of cultures.
West Street is 517 meters (1,696 feet) long and 8 meters (26 feet) wide, meandering in an 'S' along its length. Being completely paved with marble it is a typical example of a southern China street. It is greatly admired by foreigners for its simple style and courtyard-like setting. There is a saying about West Street that 'half is village while the other half is stores'.
Because, at times, foreigners outnumber Chinese, West Street is also called 'foreigners' street'. Don't be surprised if you hear English words spoken by elderly Chinese women, for West Street is called 'the global village'. Besides the local accent of Yangshuo, English has become the language for daily use. West Street is modern and fashionable, nearly every store has bilingual shop signs, and more than 20 stores have been opened by foreigners who have settled here.
Chinese visiting West Street may think they are in a foreign country, while foreigners come here to search for the ancient civilization of China. However, whether you are Chinese or a foreigner, West Street is a terrific place to take a rest, both physical and psychological. West Street will drive all of your pressures and burdens away, and give you a calmer view of life. It shows different faces at different times: calm and peaceful in the morning, while trendy and modern in the evening. Traveling to West Street is an experience to be with the landscape, with the people and with the soul.
Prev:
Li River
Next:
Moon Mountain