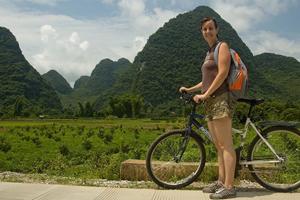 Biking Tour in Yangshuo

Day 1 Beijing-Guilin
Meal(s): Lunch
Attraction(s): Elephant Trunk Hill, Reed Flute Cave
Today Arrangement: Pick you up from your hotel/apartment, transfer to the airport and fly to Guilin. (Flight No. HU7215 09:25-12:25)
Upon your arrival, our guide and drive meet you at Guilin airport by hanging a paper board with the sign of BeijingToursGuide.com and your name. Transfer to the hotel and have a lunch. Drive to the Elephant Trunk Hill to start the tour in Guilin. The hill has 316 million years history and is Guilin's best known sight and holds a charming flavor in sunrise and sunset, arousing your imagination. Like elephant leisurely sucking water from the river with its long trunk, it got the name. Then let's come to the Reed Flute Cave. Inside, various remarkable stalactites, stalagmites, stone pillars and other rock formations display a myriad of fanciful shapes, such as curtains, birds, flowers, and animals. Under the artificial lighting, you feel in a paradise where the Gods live.
Day 2 Guilin-Yangshuo
Meal(s): Breakfast, Lunch
Attraction(s): Li River Cruise, Biking tour in Yangshuo, Moon Mountain, Big Banyan Tree
Today Arrangement: After breakfast, we enjoy a Li River Cruise. Guilin scenery is acclaimed as 'the Best under Heaven' and the most beautiful scenes are found along the Li River. Li River scenic area is world reputed for its unique natural sceneries with the most beautiful karst mountains, clear water and a taste of life far removed from the concrete metropolis. Have lunch on board and arrive at Yangshuo Country, famous for the beautiful pastoral scenery, and make a biking tour there. Visit Moon Mountain and Big Banyan Tree mainly. No journey to Yangshuo would be complete without climbing the famous Moon Hill, named for the conspicuous, lunar-shaped cavity in the center. The Big Banyan Tree is more than 1,000 years old,17 meters high, covers an area of more than 100 square meters with a green umbrella like round tree crown. Tour ends, transfer to hotel in Yangshuo.
Big Banyan Tree near Yangshuo

Day 3 Yangshuo-Longsheng-Beijing
Meal(s): Breakfast, Lunch
Attraction(s): Zhuang and Yao Ethnic Tribes, Longji Terraced Field
Today Arrangement: After breakfast, drive to Longsheng and visit Zhuang and Yao Ethnic Tribes and Longji Terraced Field there. The terrace is a rice field built on the hillsides, looking like great chains or ribbons as they wind from the foot to the top of the hill. It is created by the minority peoples of the area, such as the Zhuang and Yao Ethnic Tribes. The architecture of the Zhuang and Yao minority villages is unique as no nails are used in construction. The different minority customs and local people's dressing style are specially delicate and beautiful. Leave for the airport and fly back to Beijing. (Flight No. CZ3287 18:15-21:00)
A pick-up by our driver at Beijing airport is arranged and drive to your hotel/apartment.