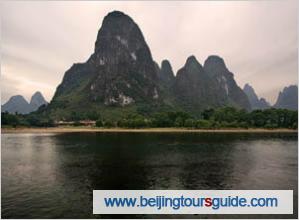 Li River is probably the greatest attraction in Guilin. Most Chinese know the famous saying, "the mountain and water in Guilin are the best in the world". Li River is a waterway feeds the lush, green vegetation that offers people a perfect scenery. The length of the Li River extends for more than 105 miles.
The reflections created by the waters of the Li River are one of its finest characteristics. For instance, when traveling the river during the winter months, the river becomes mystical from droplets of rain and lingering clouds above. However, no matter the time of year you travel to Guilin, taking a cruise down the Li River should be at the top of your list for things to do. On either side of the river are sheer limestone cliffs that enhance the overall experience.
Just outside of Guilin is a place called Bamboo Wharf. From there, an official tour boat leaves every morning, traveling the Li River about five hours until the city of Yangshuo is reached. Keep in mind that if this trip is taken during the rainy season, the river flows faster so reaching the destination may only take four hours but in hot, dry months, the river moves slower, meaning the time could stretch to six hours.
One important consideration if you choose to take a Li River cruise such as this, you need to remember that the boat comes back empty. Therefore, if you want to get back to Guilin, you would need to take land transportation. Or you may spend some time in Yangshuo.
Although the entire journey down the Li River is spectacular, the most breathtaking is between Yangdi and Xingping. People who have taken a Li River cruise agree that the trip provided an opportunity to see nature in all its glory, creating a memory to be cherished for life. Because a Li River cruise is so popular, it is highly recommended that you book as far ahead as possible and then once in Guilin, confirm the location and time for boarding the boat.
Prev:
Zhuang and Yao Ethnic Tribes
Next:
West Street