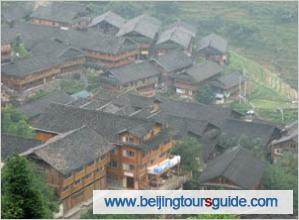 Zhuang and Yao Ethnic Tribes are spread inside large mountains near Guilin. The tribes settled in villages, and each village may be featured by one architecture characteristics.
Local Zhuang and Yao people are warm-hearted and talented in singing, dancing and performing. The tribes are the best place for you to know a folk China better. The tribes is surrounded by luxuriant forests, so people are used to living on products from the woods. Houses, transportation tools and daily stuff are mainly wood products. On some of the woods, there have totem signals being carved. Sometimes they are rules of the tribe and the village. The Yao Village has a special custom in that the men in the village often marry into and live in their bride's family. This tradition has passed down from generation to generation. Another attractive feature of the village is that the young people sing folk songs to attract their sweethearts.
Visitors can take part in the traditional sporting activities, including playing tug of war with the elephant or propping the bamboo bars. They can join in dances performed by young girls with their long hair swinging in the wind. It is a wonderful experience you would never forget.
Prev:
Longji Terraced Field
Next:
Li River