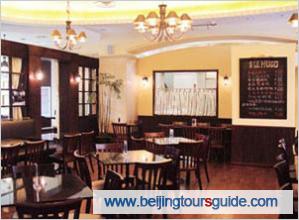 Note: SICHUAN cuisine (multi-locations)
Location:
1. 6/F, PARKSON Shopping Centre, FUXINGMEN, XICHENG District. (BAISHENG)
2. 3/F, TIANYUANGANG, 2 DONGSANHUANBEILU PING, CHAOYANG District. (SANYAUNQIAO)
3. 3/F, LIDU Restaurant, airport side, XIAOYUNLU DONGSIHUAN. CHAOYANG District. (LIDU Restaurant)
Tel:
010-66023706/2505 (BAISHENG)
010-84417066/7068 (SANYUANQIAO)
010-64376688 ext 1558 (LIDU)
Average Cost per Person: CNY 50-80
Opening hours:
Daily 11am-9pm (BAISHENG)
Daily 10.30am-10.30pm (SANYUANQIAO)
Daily 10am-10pm (LIDU)
For a solid meal of fantastic SICHUAN home cooking you also can not go wrong with YUXIANGRENJIA.
SICHUAN Cuisine is famous for hot taste, however, if you want to appreciate the essence of it, the sweet flavor you'd have also discovered from its dishes.
Precious issue in YUXIANGRENJIA is the traditional SICHUAN dish has been maintained. Place Yourself in the midst of a courtyard, Feel SICHUAN MEIZ (SICHUAN girl)'s enthusiasm, capable and honest.
The old photos of traditional houses, river towns in the south, and strings of red chillis and garlic hung on the wall, are enough to entice your appetite.
The restaurant with rustic charm, as home, elegance, more warm. Pickle fried chicken and Spicy Chicken are good for your choice. There are also various homely dishes: DANDAN MIAN (noodles, SICHUAN style), XIAOLONGBAO (small steamed bun), LONGCHAOSHOU (wonton) are the popular dishes for guest.


Other Chinese Cuisine Restaurants in Beijing:
Quanjude Roast Duck
Haiwanju Restaurant
Dali Courtyard
Haidilao
Green T. House