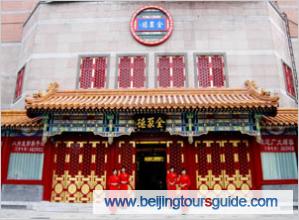 Note: Beijing Roast duck (multi-locations)
Location:
1-- Building 14, Qianmendajie, Xuanwu District. (Hepingmen branch)
2-- Address: No.826, Jinsong Baqu, Guangming Qiao, Chaoyang District. (Jinsong branch)
3-- 9 Shuaifuyuan Hutong, Wangfujing Street. (Wangfujing branch)
4-- Building A in Tianchuanshiyuan Plaza, 309 Huizhongbeili, Chaoyang District. (Olympic village branch)
Tel:
400-700-1864 (Unified national service for reservation)
010-63023062, 63018833/1151/1152 (Hepingmen branch)
010-67712197 (Jinsong branch)
010-65253310, 65228384 (Wangfujing branch)
010-64801686 (Olympic village branch)
Average Cost per Person: CNY 200
Opening hours: Daily 11am-9pm
Qujude, a famous historied brand of China, was established in 1864 (the third year of Tongzhi of Qing dynasty). During the 136 years, Qujude has experienced business vicissitudes and survived the arduous ordeal of time. Throughout the years, Qujude dishes have been greatly enriched due to developing and innovation by generations of people, and experience a long history accompany with many celebrities. You could find them on the photo wall in the corridor. Today, it's known as the "famous dish in China" all around the world.
With its long history, Quanjude roast duck enjoys a high reputation among domestic and overseas consumers for the peculiar roast technique and outstanding quality. There are too things must to be done after you got to China, visiting the Great wall and tasting the BEIJING Duck, if you like to review the history of Roast Duck and experience the old Chinese surroundings, come to this largest QUANJUDE flagship restaurant in HEPINGMEN, you could appreciate the antique architectural decoration. The fourth floor of the Golden Hall, carved in the wall, painting phoenix and dragon, luxurious elegance with strong unique national characteristic. Large banquet could be held here, the largest banquet hall can accommodate 500 people.
The Roast Ducks in Qujude are all hung oven baked, there is a set of traditional and Lean Process from duck selection to roasting, the method of cutting Duck meat is also very exquisite.
The well-known All-Duck Banquet is headed by Qujude roast duck and supported by over 400 dishes with Qujude characteristic flavor. Government leaders, officials and VIPs from nearly 200 countries and regions have visited Qujude roast duck restaurants and had dinner here.
Besides the Roast Duck, there many other dishes worthy to have a taste: The Qujude Duck Liver, it tastes tender, smell aroma. The Burning Duck Heart, it has flavor of wine and sauce. There are many other wonderful dishes should be tasted by you own.


Other Chinese Cuisine Restaurants in Beijing:
Haidilao
Haiwanju Restaurant
Dali Courtyard
Yuxiangrenjia Restaurant
Green T. House