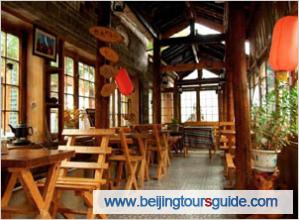 Note: Yunnanese
Location: No.67, XIAOJINGCHANG HUTONG, GULOU east road
Tel: 010-84041430
Average Cost per Person: CNY 100 (no drink)
Opening hours: Daily 10am-10pm
If you're wearied of bustling city ambience, come in "Yard from DALI YUNNAN" in Beijing city, it could be unbelievable finding so quiet yard in noisy city as if you are in YUNNAN but not in Beijing.
Plants in the yard are various and lush. Sunlight through the pomegranate tree, leave dotted shade. Leaning in wooden chair, smelling slightly, courtyard filled with the fragrance of plants and old wooden furniture. Start your feast with beautiful vision.
Most of the ingredients are flown in daily from YUNNAN province, even the Potato you eat is from YUNNAN. The Beef jerky with mink, the tender Roast TILAPIA, MUSA BASJOO with a variety of ingredients roasted on charcoal fire. Every dish you eat is under the most sophisticated approach, hearty favorite.
When the weather is nice, take an afternoon with PU'ER tea, away from the hustle and bustle, maybe the best thing you can not help to do at the moment.


Other Chinese Cuisine Restaurants in Beijing:
Quanjude Roast Duck
Haiwanju Restaurant
Yuxiangrenjia Restaurant
Haidilao
Green T. House