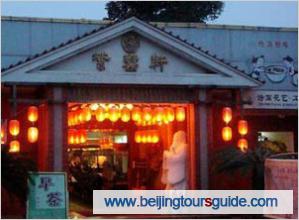 Note: Modern City Restaurant
Location: 6 GONGTI west road, CHAOYANG district
Tel: 010-65528310/8311
Average Cost per Person: CNY 300-400
Opening hours: Daily, Lunch 11.30am-3pm, Dinner 6pm-12midnight
Maybe you would forget here is a restaurant for dinner after you come in to the house, everything in GREEN T. HOUES is so exquisite, including the food, cuisine, vessel, also itself is a piece of artwork.
Maybe it's the most intimate restaurant in Beijing, you could get in this art Heaven through a white gate by ringing the doorbell.
Maybe you could feel the perfect and most beautiful combination of Chinese and Western characteristics, from your eyes to your stomach.
By the windows of a row of tables are placed in white bed, you can enjoy the dishes leaning on white cushion. So this is a fashion and expensive restaurant main with white element. The host is an artist loves classical dance and music.
Green T. House of dishes most of the elements into a tea, express the respect and understanding of Chinese culture, natural simplicity and style splendid.
As you are looking the menu, you are reading a collection of essays, esthetic words describe the dishes will attract you: "Grilled eggplant year's autumn leaves", "Only white mushrooms", "I love summer fresh strawberries", this is the name of every dish.
There are other exciting highlights: only advance booking in this restaurant, ring the bell for entrance or ask for the private access code when you make your reservation. The original decoration: the high hung bird cage, the chair-back straight to ceiling. If you are lucky, perhaps you could see the pretty hostess.
The yummy not only seductive, but also could satisfy stomach. The food and environment are worth pondering.


Other Chinese Cuisine Restaurants in Beijing:
Quanjude Roast Duck
Haiwanju Restaurant
Dali Courtyard
Yuxiangrenjia Restaurant
Haiwanju Restaurant