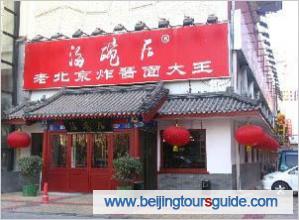 Note: Beijing snack food (multi-locations)
Location:
1-- Westbound 200 meters South at east side of ZENGGUANG road, HAIDIAN district. (GANJIAKOU main shop)
2-- 2 HUAYUANLU, HAIDIAN District (north of CUIWEI shopping plaza). (MUDANYUAN)
3-- 36 SONGYU NANLU, CHAOYANG District. (SONGYULI)
Tel:
010-88374993 (GANJIAKOU)
010-82070488/0388 (MUDANYUAN)
010-87313518 (SONGYULI)
Average Cost per Person: CNY 35
Opening hours: Daily 11am-11pm
Haiwanju is a classic Beijing noodle with soy bean paste shop. Here you can taste the full old Beijing feature noodle with soy bean paste. There are nearly 100 kinds of snacks and homely dishes, including genuine soybean paste and cooking starchs' residue and so on. It is a good place for tasting Beijing snacks.
It could make you back in old Beijing ambience if you come here. The waiters dressed in blue short grown welcome you warmly: 'you come in please' (Beijing accent), with their efficient and considerate service. The decor resembles a simple eatery in Beijing with wooden tables and pews, Ash bricks with green tiles, windows with caved flowers, elegant simplicity, broad and bright, full of old Beijing feature. Authentic Beijing-style soybean paste noodles (LAO BEIJING ZHAJIANGMIAN) as well as many other snack in Beijing full in the restaurant. Generous culture in Beijing mixed with lively ambience.
The "DAHAIWAN ZHAJIANGMIAN" is signature dish here, so won't be missed. The handmade noodles are topped with a vegetables and salty bean and pork sauce. This is hearty, traditional food can really fill you up. Additional with Bean juice, Fried ring bread, Spicy tofu, Tea soup, Roast cake, Mustard pile, etc. All of these are so authentic.


Other Chinese Cuisine Restaurants in Beijing:
Quanjude Roast Duck
Yuxiangrenjia Restaurant
Dali Courtyard
Haidilao
Green T. House