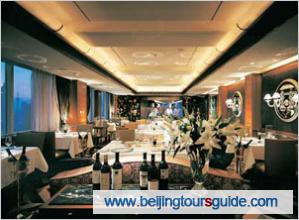 Note: Italian restaurant
Location: 2/F, Regis Hotel, 21 JIANGUOMENWAI DAJIE, CHAOYANG District (CBD).
Tel: 010-64606688 ext 2441
Average Cost per Person: CNY 500
Opening hours: Mon-Fri 11.30am-2pm, 6-10pm, Sat-Sun 6-10pm
One of the best Italian restaurants in Beijing, It's luxurious but low key, elegant yet still lively. First see here, it makes you think of the fairy tale castle. When you exposure during the time, no time to think of your original purpose is to eat and not to visit.
It has very diverse types of dishes from north to south in Italy. The steak, the Goose Liver Salad, Oxtail Soup, the freshly made pasta, Lobster SPINOSINI, the dessert Tiramisu, etc. some of that would not be tasted until in the top restaurants. Many other dished you must have a try to appreciate the fine cooking.
The top service makes you willing to pay a service fee.
The menu changed every week to meet the diverse taste of customers. And their set business lunch menus are more appealing for diners on a budget.
It is very suitable for business dinner, and for lovers dating.
Italian ice cream Green Tea World is a must to taste.


Other Western Restaurants in Beijing:
Tasty Restaurant (Steak beef)
Die Kochmützen (Germany Restaurant)
Traktirr Pushkin (Russia Restaurant)
Souk (Mediterranean Sea Cuisine)