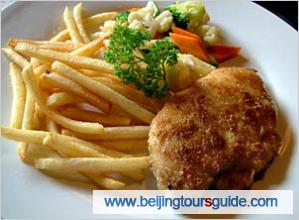 Note: Germany restaurant
Location: Building7, Jianwan SOHO, No.39, Dongsanhuan Zhonglu, Chaoyang District
Tel: 010-58693830
Average Cost per Person: CNY 120
Opening hours: Daily 11am- 0:00midnight
"Die Kochmützen - Made in Germany" has been designed in the manner of a classic German inn or tavern. In the classic style of rural Germany, this restaurant serves a wide range of authentic German beers and food. It is an ideal place for you to enjoy good German food with family or friends.
You will feel relaxed in this simple and rugged style retreat, where a lot of lampshades as hats throughout the bar that is mirrored of the name of it -- the Chef's hat. The restaurant has closely followed the style of these inns to recreate the classic rustic style, offering a warm and welcoming atmosphere for guests.
Die Kochmützen offers authentic German cuisine, you could taste the famous Royal Brewery in Munich, Fresh brewed Lager Beer, Fresh brewed dark beer, as well as German wheat beer and Wheat stout beer are available here. The Germany cuisine is mainly in sausage, sauerkraut and mashed potatoes. Take a piece of assorted fried sausage, accompanied by mashed potatoes and Germany-made sauerkraut, in addition a little mustard, you will feel a lingering flavor around from your tongue to your stomach.
You also have choices as bellow:
Appetizers: German Sausage Salad, Cold roast beef, Vegetables Salad, Smoked Salmon with Asparagus, etc.
Soups: tomato cream soup, Cream of mushroom soup, Beef soup, etc.
wheaten food: Home-made noodles with vanilla salmon, German-style fried noodle balls with salad, steak with fries and salad, Frozen pork with fried potatoes and Lei Mola juice, etc.
Mains: Sirloin steak with baked potato and vegetables, Baked potato cakes with pork, Fried salmon with onion cream sauce and potatoes, Snail gut with mashed potatoes, etc.
Vegetarian food: German-style potato cake, broccoli with cream, etc.
Dessert: Pulp jelly with vanilla sauce, Chocolate mousse, Ice cream with strawberries, etc.
Jazz live show could be enjoyed if you come here on weekends.


Other Western Restaurants in Beijing:
Tasty Restaurant (Steak beef)
Traktirr Pushkin (Russia Restaurant)
DANIELI'S (Italian Restaurant)
Souk (Mediterranean Sea Cuisine)