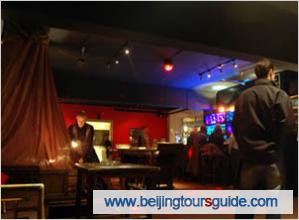 Note: Mediterranean Sea cuisine
Location: west entrance of CHAOYANG Park, CHAOYANG District
Tel: 010-65067309
Average Cost per Person: CNY 100
Opening hours: Daily 5pm-2am
This special restaurant makes your journey into an amazing cave, it stays in an
Alley maybe you could ignore. When you are sitting in the special couch, looking around the beautiful Dreamy ornamentation inner the house, you feel as if you are in Mediterranean Sea: Comfortably relying on the couch, have a try of the colorful Hookah looks like a Magic Lamp.
Their chicken kebabs, succulent beef skewers and excellent hummus overseen by a German chef, and the Roast Mushroom, Special Salad are the highly recommended food.
Meanwhile, at fair price, talkative holder inside, makes your dinner enjoyable and relaxed with the comfortable couch, and it's a good experience of smoking the Hookah and having a try of the extraordinary Salad.


Other Western Restaurants in Beijing:
Tasty Restaurant (Steak beef)
Die Kochmützen (Germany Restaurant)
Traktirr Pushkin (Russia Restaurant)
DANIELI'S (Italian Restaurant)