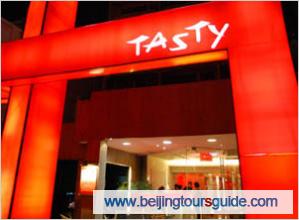 Note: Steak beef
Location: 3/F Building 1 Jiamao plaza, Xizhimen waidajie, Xicheng District.
Tel: 010-58301780/1781
Average Cost per Person: CNY 100
Opening hours: Mon-Fri 11am-2pm, 5.30-9pm
Sat-Sun 11.30am-3pm, 5.30-9pm
Tasty is a Western restaurant where you could taste yummy steak as well as other Western dishes, it has been famous for medium price with value delicious, and high taste, mainly focus on the group of age from 25 to 35 youth who pursue fashion life.
There are 12 direct sales stores all of the country, you could be treated as you enjoying the elegant environment and warm services. The restaurants almost located in large fashion shopping mall, so you can touch other retreats conveniently, because you are in midst of a combination of diversity fashion goods.
Tasty offers a variety of western yummy, among of which you have many choices of packages: 138 Yuan of Splendor Baroque Package, 108 Yuan package of Elegant Rococo and the 68 Yuan package of Goethe fashionable style.
138 Yuan of Splendor Baroque Package including:
Bread: bread with sesame and butter
Salads: choice from many kinds, for instance, Vegetables with smoked duck breast, Tata flounder, etc.
Soups: choice from French snail soup, classic borsch and thick soup with gen-seng.
Fruit sorbet
Mains of steak: choice from three kinds.
Desserts
Drinks


Other Western Restaurants in Beijing:
Die Kochmützen (Germany Restaurant)
Traktirr Pushkin (Russia Restaurant)
DANIELI'S (Italian Restaurant)
Souk (Mediterranean Sea Cuisine)