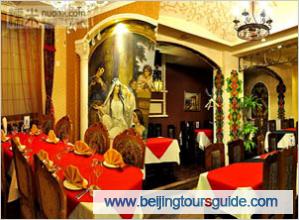 Note: Russia restaurant
Location: No.5-15 Dongzhimen Neidajie, Dongcheng District.
Tel: 010-64031896/ 84078158
Average Cost per Person: CNY 150
Opening hours: Daily 10am-11pm
Traktirr Pushkin is one of the best traditional Russian restaurants, the first Russia restaurant Traktirr is set up by a Russia business man in 1994, then in 2005, there appeared the Traktirr Pushkin in Dongzhimen Chaoyang District, designed by an interior designer from Russia, and the restaurant is recognized as the most beautiful, the most classic Russian style restaurant, you are exposed here in a lively environment with red, yellow, green colors, there on the wall printed Russian fairy tales make you stay to imagine.
It attracted many customs rang from embassy officials to other ordinary people with the family style dishes and warm services. Don't worry about you could not used to the Russia flavor, owing to the diversity dishes made according to different countries flavor can meet your taste.
The most popular Russia traditional soup – red soup, the best known Russian salad -- Capital salad, the crispy delicious Chicken Kiev Volume, fresh and tender Russian type fresh beef stew, all of these are worthy to have a taste by yourself.
There are two floors in Traktirr Pushkin, two VIP rooms in first floor, you will be enjoying in a time staggered space in the hall with LCD TV, long table, fireplaces, mirrors, murals in. the VIP room can accommodate 25 people in max. The Russia style garden at semi-underground is an ideal place to take a party or to meet friends.


Other Western Restaurants in Beijing:
Tasty Restaurant (Steak beef)
Die Kochmützen (Germany Restaurant)
DANIELI'S (Italian Restaurant)
Souk (Mediterranean Sea Cuisine)