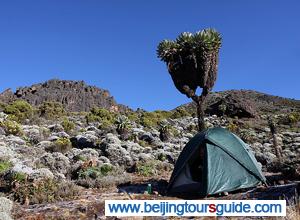 Camping Great Wall

Day 1 Beijing-East Qing Tombs-Huangyaguan
Meal(s): Lunch, Dinner
Hiking Time: 1.5hrs
Today Arrangement: The guide and driver pick you up early at the hotel, and then drive directly to East Qing Tombs, which is the sacred royal tomb cluster of Qing Dynasty (1644-1912). See the scared way, splendid gate, decorated pillars, animal scriptures, and especially the glorious underground palace; it is really a good way to learn about Chinese history and culture at that time. The Tombs are circled with mountains and trees, very beautiful and peaceful environment.
After the visit, drive about 1 hour to a small village, the starting place for our afternoon hike. Hike for 1.5 hours towards Huangyaguan Fortress at the bottom of the Wall, an easy hike with great views along the way. Overnight at the courtyard hotel.

Day 2 Huangyaguan-A Samll Moutain Village-Beijing
Meal(s): Breakfast, Lunch
Hiking Time: 4-5hrs
Today Arrangement: Start our hike today in the morning and head towards what appears to be a straight cliff where we encounter 'Heaven's Ladder', formed of over 200 steps, which lead us a steep climb up the cliff. Once we have caught our breath, continue gradually up to the top of the ridge and see the unrestored Wall section.At the end of the morning, climb down the Wall as it gradually descends into the valley below, where we enjoy a delicious home-made lunch prepared for us by a local family. Have a bit of time to wander around the village, chat with the villagers before driving back.