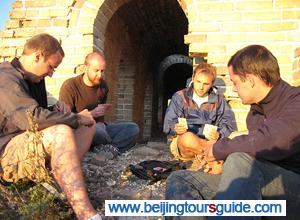 Take a break on Great Wall

Day 1 Beijing-Gubeikou-Jinshanling
Meal(s): Lunch, Dinner
Hiking Time: 5hrs
Today Arrangement: Pick you up early at the hotel by our guide and driver, and then transfer directly to Gubeikou section of Great Wall, where the hike starts. The bird's view is wonderful, if in a clear weather, we are able to see the Miyun reservoir and the Wangjing Tower in Simatai Section, remote miles far ahead. Along the way, we pass a military area where hiking is prohibited and have to bypass by a diversion to an interesting village nearby. Rejoin the Wall in Jinshanling section. For the night, either camp on the Wall, or stay in a clean courtyard hotel at the bottom of the Wall.

Day 2 Jinshanling-Wohushan-Jiankou
Meal(s): Break, Lunch
Hiking Time: 5hrs
Today Arrangement: Get up before sunrise to grasp the view of the sun throwing soft morning light onto the Wall. Have a breakfast and then move on towards Simatai. During the way, stop at Wuyan tower and enjoy a good view of Simatai Great Wall ahead and the beautiful surroundings. Then climb down to meet the driver in the parking lot at the bottom of Jinshanling. Lunch is in a local restaurant.
Take a short drive to Wohushan section for another 2 hours hiking. Wohushan Great Wall straddles on Wohushan Mountain and winds along the mountain for 13.6 kilometer with 20 towers distributed. From here we will transfer to Jiankou section of the Wall, where we will enjoy the hospitality of a local family, staying in their courtyard hostel for our final night.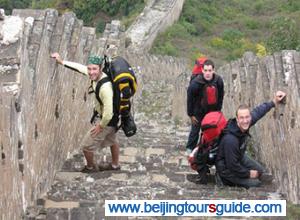 Hiking...

Day 3 Jiankou-Mutianyu
Meal(s): Breakfast, Lunch
Hiking Time: 4-5hrs
Today Arrangement: Jiankou section is reputed as one of the most beautiful parts of the 'Wild Wall' (unrestored) near Beijing, which is especially loved by photographers. Although we have to walk very carefully, it is worth when we take the awesome photos. Have a late lunch at a restaurant near Mutianyu, known for its delicious fish. Drive back and taste all the pleasant memories during the 3 days under the magical late afternoon sun light.