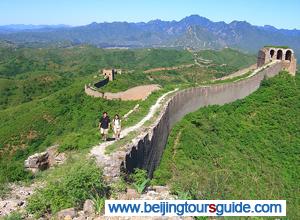 Gubeikou Great Wall

Day 1 Beijing-Gubeikou-Jinshanling
Meal(s): Lunch, Dinner
Hiking Time: 5hrs
Today Arrangement: After an early pick-up from your hotel, drive directly to the Gubeikou section of the Great Wall. The Great Wall was built to protect China from attacks of nomads living in north frontiers. However, it was broken through here at the Gubeikou Pass, in 1541 by the Mongols, under the leadership of Altan Khan, who set the suburbs of Beijing on fire but inexplicably spared Beijing. The hike will take us to a military area along the Wall, which we must bypass through a pleasant diversion through a friendly village; then hike directly to the Jinshanling Great Wall, where we will stop for the night, either stay in a local hotel near the Wall, or camp on the Wall if the weather is nice!

Day 2 Jinshanling-Simatai-Beijing
Meal(s): Breakfast, Lunch
Hiking Time: 5hrs
Today Arrangement: Get up before sunrise to catch the beautiful view of the sun throwing soft morning light onto the Great Wall, great for photos. After breakfast, begin our hike towards the Simatai section. The hike is more difficult than yesterday's due to the steep mountain ridges the wall follows, and some broken down parts of the Wall- known as the 'Wild Wall', unrestored. Have a picnic lunch inside one of the beacon towers if the day is too hot. During the afternoon, there will be many opportunities to take pictures of the authentic Great Wall section before we reach the restored tourist section at Simatai, where the driver is waiting for us in the parking lot. Be transferred back at the end of the afternoon.