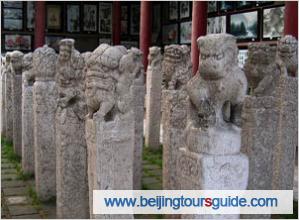 Forest of Stone Steles Museum, also called as Xian Beilin Museum, is a museum full of steles and stone sculptures from a lot of ancient dynasties of China. The place can be described as "forest", showing its huge collection of steles and antiques.
Forest of Stone Steles Museum occupies a large area. Begin from the Kaicheng Shijing Stele and the Shitai Xiaojing Stele, two groups of steles carved in Dynasty Tang are settled in a straight line. Among them, some of the most great calligraphy masterpieces are collected and protected. Important ancient Chinese thoughts were deeply carved into the solid stones. Characters from classical books such as Sishu (meaning the four books of Daxue, Zhongyong, Lunyu and Mengzi) and Wujing (five masterpieces of Shi, Shu, Li, Yi and Chunqiu) were actively shown on the steles. In ancient dynasties, those students got the opportunity to exam in the emperor's palace would tour in the Forest of Stone Steles Museum. That was the place that imperial ethnics were taught and spread. The Forest of Stone Steles Museum is not a simple place for appreciating great works of calligraphy, but a real classroom to teach concepts, ideals and methods of traditional China's politics and value. When you found a stele with Lantingjixu on it, you would not only watch an elegant calligraphy treasure, but the brilliant loyal and righteous personality of the great calligraphy master in Dynasty Jin, Wang Xizhi. If you are a Chinese culture expert, same moving moment would happen to you.a
Forest of Stone Steles Museum collects nearly 3000 steles, making it the biggest steles museum in China. Works of Dynasty Tang are the main treasure, but you may still find older or latter masterpieces here. Ink rubbings of the steles are available for sale. Buying the rubbings offers you a best original material for practice your own calligraphy. Or hanging it on the wall will be fine, too.
Prev:
Terracotta Warriors and Horses
Next:
Bell Tower