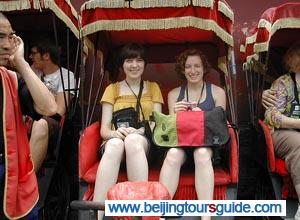 Hutong tour with rickshaw

Day 1 Entry Beijing
Today Arrangement: Welcome to China! Our private English-speaking guide and driver will pick you up in time at Beijing airport and transfer you safely to the hotel. A paper board with the sign of BeijingToursGuide.com and your name will be held high at the airport exit.
Day 2 Beijing
Meal(s): Breakfast, Lunch at Wahaha Restaurant
Attraction(s): Tiananmen Square, Forbidden City, Temple of Heaven, Tea House
Today Arrangement: Beijing is the capital of China and a most popular tourism destination. Today, we do our sightseeing in places as follows. Tiananmen Square is the largest city square in the world and of great historical significance, where you could see the symbol of China-the ancient majestic Tiananmen Tower. Nearby the square, is the Forbidden City, a world reputed palace of Chinese 24 emperors in Ming and Qing dynasties. The Temple of Heaven, much bigger than the Forbidden City, is a royal temple worshipped by Chinese emperors to pray to heaven for a good harvest. In the Tea House, learn more about Chinese tea culture.
Optional Add-on: Peking Opera
Day 3 Beijing
Meal(s): Breakfast, Lunch at Jindian Restaurant
Attraction(s): Badaling Great Wall, Changling of Ming Tombs, Jade Factory, Olympic Green
Today Arrangement: Today in Beijing, we visit Badaling Great Wall, Changling of Ming Tombs, Jade factory, Olympic Green. Badaling Great Wall is the most famous and best preserved section of the Great Wall and visited by more than 300 celebrities included President Nixon and Lady Thatcher. Changling is the ancestral tomb of Ming Tombs where we can admire the great building craftsmanship of Chinese ancient royal tombs and discover the mysterious history of Ming Dynasty. In the Jade factory, learn about Chinese jade culture and appreciate the dazzling exquisite jade products. Come to the Olympic Green to visit the Water Cube and the Bird's Nest, which rank among the top 10 architectural miracles in China appraised by Business Week.
Optional Add-on: Chinese Kung Fu Show, Quanjude Roasted Duck Dinner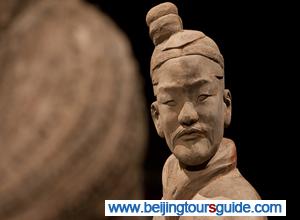 Terra-cotta Worriors

Day 4 Beijing-Xian
Meal(s): Breakfast, Lunch at Hutong local family
Attraction(s): Summer Palace, Hutong tour with rickshaw, Xiushui Market
Today Arrangement: Continue our tour in Beijing. Summer Palace is a well- preserved entertainment garden of the emperors and their imperial families. Read about the real life of the old Beijing city by a Hutong tour with rickshaw. Be seated in rickshaw, we have a distinct sightseeing of the well-known beautiful Shichahai Lake and its shore characteristic buildings and landscapes. Further, we pay a visit to local Hongtong family, making dumplings together, chatting and at last having our dumpling lunch. Xiushui Market is also known as Silk Market. It has become China's international tourism shopping market with the most international influence, along with the Great Wall and the Forbidden City. The shopping mall offers silk, pearl, Chinese souvenirs and imitation goods. Then you will be transferred to Being West Railway Station and take an overnight soft sleeper train to Xian.
Day 5 Xian
Meal(s): Breakfast, Lunch at Qianzhou Restaurant (Xiao Yanta Branch)
Attraction(s): Shaanxi Historical Museum, Bell Tower, Xian City Wall, Big Wild Goose Pagoda
Today Arrangement: Pick you up at Xian railway station by our private guide and driver, transfer to the hotel. After breakfast, start to explore the time-honored city through the flowing attractions. Shaanxi Historical Museum is a good-sized modern national museum built with the architectural features of the Tang Dynasty. The museum houses the best cultural heritage of Shaanxi Province and shows the systematic development process of Chinese civilization. Bell Tower is a symbol of Xian, a grand ancient building with traditional Chinese architectural features with a huge bell. Xian City Wall is a main attraction of Xian, one of the largest ancient military defensive systems in the world. Big Wild Goose Pagoda is another symbol of the old-line Xian, a well-preserved ancient building and a holy place for Buddhists.
Optional Add-on: Dumpling Banquet, Tang Dynasty Dances and Music
Huaqing Hot Springs
Day 6 Xian-Shanghai
Meal(s): Breakfast, Lunch at A Wa Shan Zhai Restaurant (Qinling Branch)
Attraction(s): Terracotta Warriors and Horses, Xian Art Pottery Factory, Huaqing Hot Springs
Today Arrangement: Today, we will visit the Terracotta Warriors and Horses, Xian Art Pottery Factory, Huaqing Hot Spring. The Terra cotta Warriors and Horses is one of the most significant archeological finds of the 20th century. These 6000 life-size painted terracotta warrior and horses-individually sculpted from real life models and arranged in battle formation have been protecting the mausoleum of the first emperor in Chinese history- Emperor Qinshihuang for 2,200 years. In the Xian Art Pottery Factory, you could see the copies and souvenirs and Terra cotta Warriors and Horses as well as Tang Tricolor. Huaqing Hot Springs used to be an imperial bathing pool and various palace complexes. It is famed for the beautiful sceneries; what's more, for the love story of the Tang Emperor Xuanzong and his favorite concubine Yang, one of the most enchanting ladies in ancient China. They used to spend the wintertime at the springs. Be transferred to railway station and take an overnight soft sleeper to Shanghai in the evening.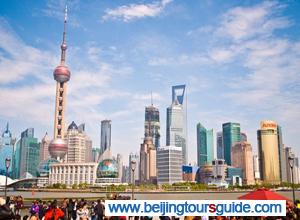 The Bund

Day 7 Shanghai
Meal(s): Breakfast, Lunch Golden Bund Restaurant
Attraction(s): Oriental Pearl TV Tower, Yuyuan Garden, Shanghai Museum, Silk Factory, the Bund
Today Arrangement: Arrive in Shanghai, a renowned international metropolis. Moreover, Shanghai has a unique glamour, with the perfect blend of multi cultures-the modern and the traditional and the western and the oriental. We are going to feel the distinct city through the following sightseeing. Oriental Pearl TV Tower is 468 m high, highest in Asia and the third highest in the world. The architecture features 15 spheres of different sizes at different levels based on the artistic conception of 'large and small pearls dropping onto a jade plate'. In the largest ball, there is a revolving teahouse and an observatory platform. Yuyuan Garden is a famous classical garden in Shanghai, built in 1577 by Pan, a government officer of Ming Dynasty. The pavilions, halls, rockeries, ponds and cloisters all have unique characteristics. Shanghai Museum has a circular roof and rectangular base designed as the China's ancient understanding of the world: round sky and square earth. It stores 120,000 precious culture artifacts, which narrate a story of China's 5,000- year civilization. The museum is highly acclaimed internationally. In the Silk factory, we can watch the whole silk-making process and learn about Chinese silk culture. The Bund is a famous waterfront and regarded as the symbol of Shanghai for hundreds of years. It is the starting point where Shanghai walked into the modern times and a good place to know about the old Shanghai.
Optional Add-on: Acrobatic Show
Day 8 Depart Shanghai
Meal(s): Breakfast
Today Arrangement: Free at your own leisure till your transfer to airport for departure. We wish you have a pleasant journey home and thank you for using with Beijing Tours Guide.