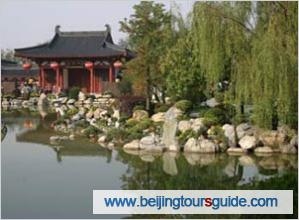 Hua Qing Hot Spring is also called Huaqing Palace, serving as China's famous hot spring scenic spot. In 1982, Hua Qing Hot Springs were listed into the first group of national key scenic spots. Wujianting, was chosen among the second group of the same title. In 1996, the State Council announced the Hua Qing Hot Springs member of the 4th group of national key cultural relics preserved units. Thus, Hua Qing Hot Springs are really the place you cannot miss in your Xian travel.
According to history books, Hua Qing Hot Springs were found 3,000 years ago in the era of Dynasty Zhou (1046 B.C. to 256 B.C.). In Han Dynasty (202 B.C. to 9 A.D. and 25 A.D. to 220 A.D.), emperors and nobles began to build mansions within the area. In Dynasty Tang (618 to 907), the magnificent Huaqing Palace was established here. That was the golden time of Hua Qing Chi (Hua Qing Hot Springs). The complex around the springs was expanded in 747. From then on, every year, Emperor Xuanzong (Li Longji) would accompany his beloved Concubine Yang (Yang Yuhuan) to stay here. During the time of Xuanzong, he had been to springs for nearly 40 times.
Hua Qing Hot Springs have four spring openings. Hot springs come out of the underground for about 113 tons per hour. Temperature of the springs stays around 43℃. The water is abundant with many kinds of minerals and organic elements. Lime, sodium carbonate, silica, aluminum oxide, sodium oxide, sulfur and many others can be found in the water everywhere inside the area. It is a perfect place for bath, also the medical pool to cure arthritis and skin diseases.
Hua Qing Hot Springs witnessed the love story of Emperor Xuanzong and Concubine Yang. The love ended in Yang's death in Maweipo after the invasion from Anlushan troops. While in modern times, Hua Qing Hot Springs also played an important role to push forward China's history. In 1936, Chairman Chiang Kai-shek came to Xian to force General Zhang Xueliang and General Yang Hucheng to move their troops toward the bases of Communist Party. Zhang and Yang refused the proposal and on December 12, 1936, they ordered their soldiers to arrest Chairman Chiang in the mountain behind Hua Qing Hot Springs. That was the shocking news of "Xian Incident". Chiang was rescued and had no choice to be forced to cooperate with Communist Party fighting back Japanese. The incident changed modern China's history. Tourists may still find the hiding place of Chairman Chiang in Bingjian Pavilion.
Hua Qing Hot Springs are a unique place for better knowing China's ancient and modern history. After all, the love between the Emperor and the Concubine led to decline of the powerful dynasty, and the arrest of the top leader in 1930s unified parties to fight and gained the last great victory.
Prev:
Great Mosque
Next:
Yuyuan Garden