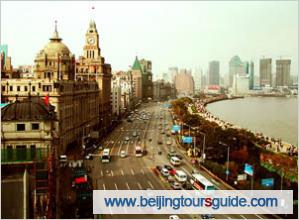 The Bund is the root of Shanghai, both geologically and sociologically. Huangpu River inside the city divides it into two parts. In the old times, the east shore was poor and old, but on the west shore, a world with western looks came into beinig. That is the Bund (Wai Tan) and its affiliated buildings and complexes.
Located along the Huangpu River, the Bund shows off Shanghai's outstanding foreign buildings. Most of these western buildings were erected before 1937. In the 1930s, the string of buildings hosted the city's financial and commercial centers, and the world's greatest banks, insurance companies and transnational enterprises worked together to build a western base here. To those who lived in that time, the Bund was an oriental Wall Street.
Over a hundred year ago, western invaders came to the region and found the soil here was muddy, climate was moist and reeds covered everywhere. They gave name to the place. "The Bund", originally meant "a muddy embankment", showed on the platform of China's modern history.
The Bund occupies a well-maintained walkway providing excellent views over the river to Pudong and down the river to the old Customs House and other colonial relics. The architecture styles includes Gothic, Baroque and Romanesque. Today, the Bund is in the process of another transformation. Roads become wider and wider. Under river transportation pipes are being used. Old buildings are reopened to the public and they still serve as the financial providers.
The Bund is a very important cultural note of modern China. In many movies, TV series, books and paintings, the Bund is the first impression of many men toward Shanghai. Hanging around the Bund after supper will be a unique enjoyment in your Shanghai trip.
Prev:
Jade Buddha Temple
Next:
Nanjing Road