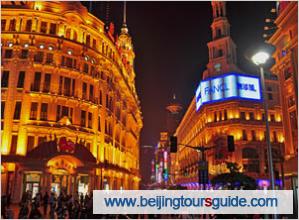 Nanjing Road is China's most renowned commercial street, also an influential street in the world. The 3.4-mile-long Nanjing Road, starts at the Bund in the east and ends in the west at the junction of Jing'an Temple and Yan'an West Street.
The unequal Nanjing Treaty signed after the Opium War (1839-1842) had supported Shanghai to become an open port. Nanjing Road at that time was under rule of British administrations. The road was a main channel for transporting foreign goods, giving it the opportunity of being the first shopping street in Shanghai. Over time, Nanjing Road has been restructured, undergoing significant changes. In 1930-40s, four giant store buildings were opened along the street. After 1949, stores were modified to become state-owned. Only in recent years, shopping malls with new concepts are springing up like mushrooms within the area. Other specialty stores, theatres, and international hotels also occupy their spaces along the road.
Malls, stores and vendors in Nanjing road offer countless famous brands. French and Italian fashion gives you international choices for clothes. Food of different flavor makes your rest time more abundant. Open-air bars, abstract sculptures, and lingering sounds from street musicians enhance evening strolls. A trackless sightseeing train provides a comfortable tour of the night-transformed pedestrian street. Flashing neon signs illuminate the magnificent buildings and spangle the night skyline of this lively city.
Shopping in Nanjing Road would be your top shopping experience in China.
Prev:
The Bund
Next:
Shanghai Museum