Xian Ancient City Wall

Day 1 Beijing-Xian
Meal(s): Lunch
Attraction(s): City Wall, Big Wild Goose Pagoda, Bell Tower
Today Arrangement: Go to Beijing airport on your own and fly to Xian.
Meet with our guide and driver in Xian airport, have a lunch and drive to Xian City Wall, the main attraction of Xian and one of the largest ancient military defensive systems in the world. Then go to the Wild Goose Pagoda which is the symbol of the old-line Xian, a well-preserved ancient building and a holy place for Buddhists; leave for Bell Tower. The Bell Tower was another symbol of Xian originally built in 1348, a grand ancient building with traditional Chinese architectural features.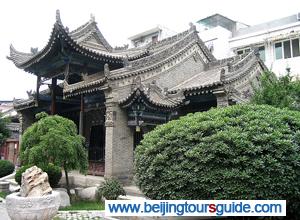 Xian Great Mosque

Day 2 Xian-Beijing
Meal(s): Breakfast, Lunch
Attraction(s): Terra-cotta Warriors and Horses, Shaanxi History Museum, Great Mosque
Today Arrangement: Today's tour in the ancient Xian city includes the Terra-cotta Warrior and Horses, Shaanxi History Museum and the Great Mosque. The Terra-cotta Warrior and Horses, discovered in 1974 by local farmers digging a well, is one of the most significant archeological finds of the 20th century. These 6000 life-size painted terracotta warrior and horses-individually sculpted from real life models and arranged in battle formation have been protecting the mausoleum of the first emperor in Chinese history- Emperor Qinshihuang for 2,200 years. Shaanxi History Museum is a good-sized modern national museum built with the architectural features of the Tang Dynasty. The museum houses the best cultural heritage of Shaanxi Province and shows the systematic development process of Chinese civilization. Finally is the Great Mosque. The mosque is one of the oldest, largest and best-preserved Islamic mosques in China, built in 742 during the Tang Dynasty. It is a major spot for religious activities of over 60,000 Moslems in Xian and the only mosque in China that is open to visitors. Tour end, leave for Xian airport and fly back to Beijing. Transfer back to you hotel/apartment on your own.

More Xian tours from Beijing, please visit our company another website at: Xian Tours from Beijing