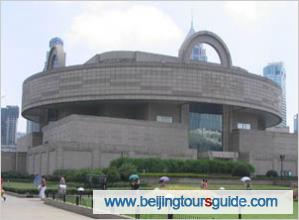 Shanghai Museum is located in the center the People's Square. The Museum is famous for its collection of ancient Chinese art. The exterior design of the Museum, with a round dome and a square base, symbolizes the ancient idea of a round heaven and a square land.
The museum is divided into eleven galleries and three exhibition halls. The eleven Galleries cover most of the major categories of Chinese art: Ancient Ceramics, Ancient Bronze, Calligraphy, Paintings, Sculpture, Jade, Seals, Coins, Furniture and Minority Nationalities. These galleries are real treasure houses. Antiques from all over China were transported here for research, with some of them being exhibited in the museum. Some collections of the Museum is very precious, such as painted and gray pottery from the Neolithic age, primitive celadon from the Shang, Zhou and Warring States, mature celadon from the East Han Dynasty, the well known tri-colored glazed pottery from the Tang Dynasty, blue, white and black glazed as well as painted porcelain from the Song, Jin and Liao, and the brilliant works from Jingdezhen, Jiangxi, the center of the industry during the Yuan, Ming, and Qing dynasties.
Shanghai Museum provides different levels of public activities. Locals can registered to be volunteer of the Museum. And it always holds special exhibitions on certain topics. Big museums at home and abroad are also fond of being the partner of Shanghai Museum.
Shanghai Museum is an ideal place for you to learn more about the city, even the whole country.
Prev:
Nanjing Road
Next:
Oriental Pearl TV Tower