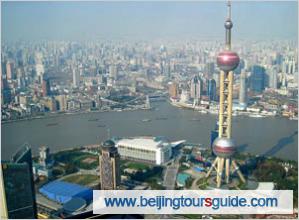 The Oriental Pearl TV Tower is located in Pudong Park in Lujiazui, Shanghai. The tower, surrounded by the Yangpu Bridge in the northeast and the Nanpu Bridge in the southwest, creates a picture of "twin dragons playing with pearls".
The total height of The Oriental Pearl TV Tower is 468 meters. It is the world's third tallest TV and radio tower. However, even more alluring than its height is the tower's unique architectural design that makes the Oriental Pearl TV Tower one of the most attractive places anywhere. The base of the tower is supported by three seven-meter wide slanting stanchions. Surrounding the eleven steel spheres that are "strung" vertically through the center of the tower are three nine-meter wide columns. There are three large spheres including the top sphere, known as the space module. Then there are five smaller spheres and three decorative spheres on the tower base. The entire structure rests on rich green grassland and gives the appearance of pearls shining on a jade plate.
The double-decker elevators inside the Oriental Pearl TV Tower can hold up to fifty people up and down at the rate of seven meters per second. Once you reach your destination, you will be amazed at the variety of activities available as the various spheres and columns actually house places of interest, commerce, and recreation. The inner tower is a recreational palace, while the Shanghai Municipal History Museum is located in the tower's pedestal. The large lower sphere has a futuristic space city and a fabulous sightseeing hall. From here, on a clear day a visitor can see all the way to the Yangtze River. The base of the tower is home to a science fantasy city. The five smaller spheres are a hotel that contains twenty-five elegant rooms and lounges.
Prev:
Shanghai Museum
Next:
Longji Terraced Field