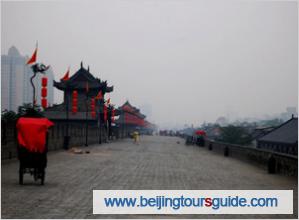 Xian City Wall is an internal loop in the center of the city made by bricks. It is a rectangle wall with a height of 12 meters, 15 meters wide at the top and 18 meters thick at the bottom. The circumference of the wall is 11.9 kilometers. Along the wall, there four huge gates toward four directions. They are Changle (meaning everlasting happiness) in the east, Anding (stability) in the west, Yongning (eternal peace) in the south and Anyuan (stabilizing the frontier areas) in the north. The gates tell ancient politician's desire and wishes.
Using walls of Dynasty Tang (618-907) as the base, the first emperor of Dynasty Ming, Zhu Yuanzhang, ordered workers to rebuild Xian City Wall from 1374 to 1378. The strategy for the city at that time was to prevent Mongolian troops from the north side, so the city wall was built thick and solid. The width at the bottom is longer than the top, making the wall top a fine ground for transportation and exercising soldiers. Every 120 meters, there is a rampart extending out from the main wall. It was designed for shooting enemies climbing from the bottom of the wall. Two ramparts keep an enough distance to make shooting possible and fine in a good view. The total number of the ramparts is 98, guaranteeing a strong fighting ability.
Four huge gates of the city were built with complicated parts. Each gate is supported by three sections: front gate, arrow tower and brake tower. The area surrounded by front gates and arrow towers is called "Wuncheng" (a city like a jar), where soldiers are stationed. These soldiers might move into the area surrounded by the brake tower and the arrow tower. If the brake tower was broken by the enemy, troops could retreat inside their camp ground in the middle of arrow tower and front gate, supporting them more time for fighting.
On top of the wall, there is a water draining tunnel. This drainage system guarantees the City Wall to stand for hundreds of years. Around the wall, a wide and deep city moat flows for centuries. All of these measures guard the people inside the city and the city itself.
Xian City Wall is the name card of the ancient capital of China. It is huge in size. You may get to the bottom of the wall from every directions of Xian. Hanging around the top of the wall after your supper will be a great enjoyment in the city.
Prev:
Botanical Garden
Next:
Big Wild Goose Pagoda