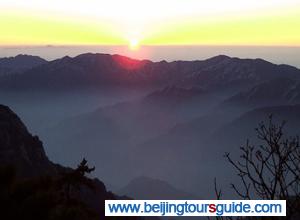 Sunrise on Huangshan
Day 1 Beijing-Huangshan
Meal(s): Dinner
Attraction(s): Huangshan City Museum, Ink factory, Tunxi Ancient Street, Xinanjiang River
Today Arrangement: Pick up from your hotel/apartment by our private English-speaking guide, transfer to Beijing airport and fly to Huangshan.
Pick up you in Huangshan Tunxi Airport. Visit Huangshan City Museum in Tunxi District and see its ancient architectures, antique paintings & art handcrafts. Learn about Chinese ink culture in the Ink factory of 200 years history. Tunxi Ancient Street has a history of 500 years, with shops selling local products and souvenirs along the street. At the bank of XinAnJiang River, be immersed in its beautiful sceneries.
Day 2 Huangshan
Meal(s): Breakfast, Lunch
Attraction(s): Huangshan Scenic area Mountain
Today Arrangement: After about 1 hour's drive, we arrive in Huangshan Scenic Area. Take YuPing cable car to the top of Huangshan Mountain(10mins), famous for its grotesque peaks and dense trees. On the top we visit the Jade Screen Tower scenic area, the "Greeting Guest Pine Tree(1500 years old)", the 3rd summit "Capital heaven" , the 1st summit "Lotus peak" , the 2nd summit "Bright Summit", Flying Over Rock, Cloud Dispelling Pavilion (natural rock museum), and Sunset & Sunrise Peak (Red Cloud Peak).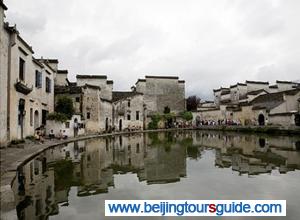 Hong Cun Village
Day 3 Huangshan-Beijing
Meal(s): Breakfast, Lunch
Attraction(s): Sunrise, West Sea Valley, Lion Peak, Old Hong Cun Village
Today Arrangement: In the early morning, appreciate the sunrise. So amazing! Visit West Sea Valley(Grand Canyon) , famous for queer pine trees from nature, such as "Dragon Foot Tree" ,"Black Tiger Tree"; the Lion Peak famous for rock from nature ,such as "Monkey Rock", The Brush Peak. Take the YunGu cable car down to the foot of Huangshan Mountain, and then get back to downtown TunXi, on the way visit 900 years old Hong Cun Village, which was listed in the UNESCO. After visit, send you to Huangshan Tunxi Airport. Pick up at Beijing airport and transfer to your hotel/apartment.