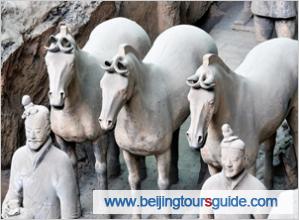 A normal day in 1970s would change the history of archaeology forever. A peasant dug a hole and found something he had never met before. This led to the findings of the great Terracotta Warriors. The unique characteristics of them soon conquered the world and earned a high reputation of the "Eighth Wonder of the World".
The Terracotta Warriors were made in the period of Dynasty Qin (221 B.C. to 206 B.C.), the very first feudal dynasty of China. From that time, Chinese top leaders in different dynasties were being called the "emperors". The first emperor of China, Qinshihuangdi (259 B.C. to 210 B.C.), was made King of the state of Qin at the age of thirteen, by the time he was thirty-eight he conquered the six neighboring states to unify China for the first time in history. From then on, China became a unified giant power. However, Qinshihuangdi killed too many people for his unification goal. He made himself many enemies and suffered a few assassins when he was alive. So he was afraid of being assassinated after his death. Then, he ordered slaves to build huge tomb armed with hidden weapons. And he ordered workmen to make "troops" and buried them under the ground, so that they would be commanded by the emperor after his death.
It is hard to estimate how many Terracotta Warriors were made. The Terracotta Warriors being unearthed can just represent a small portion of the underground army. The craftsmanship attested by each of the statues is as stupendous as the scale of the project. More and more new Terracotta Warriors are being unearthed these years. The scale becomes bigger and bigger.
According to words from the classic history book Shiji (the Historical Records) wrote by Sima Qian, 700,000 forced laborers were sacrificed to construct the emperor's tomb. All workers and childless concubines were interred with him alive to safeguard the tomb's secrets. This would not be enough. He thought of forming an underground army to fight against his enemies.
These troops formed a complete army. There are foot soldiers, arrow shooters, crossbow men, knights and other kinds of warriors. There are many members for each kind. And individuals may change their heights, face features and gestures. Everything follows the look of a real army. Heads, arms and legs were joined together with strips of clay and set upon the solid legs. After the rough model was assembled, a fine clay slip was added. Then, details parts such as eyes, nose, mouth and dress were carved into the clay while it was still pliable. Additional pieces such as ears, beard and armor were modeled separately and attached, after which the whole figure was fired at a high temperature. One by one, an underground army came into being.
The Terracotta Warriors holds an important position in China's archaeology circle. They are symbols of China's tourism. Viewing in China, you will not miss the Terracotta Warriors.
Prev:
Shaanxi Historical Museum
Next:
Forest of Stone Steles Museum