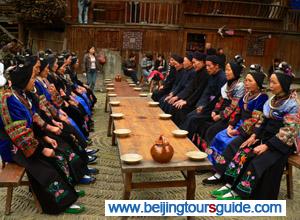 The Miao Ancient Song sung by the aged
Day 1 Beijing-Guiyang-Kaili
Meal(s): Lunch, Dinner
Attraction(s): Kaili Ethnic Museum
Today Arrangement: Pick you up from your hotel/apartment in Beijing, transfer to the airport and take the early flight to Guiyang Airport in Guizhou province. Upon your arrival, our local guide & driver will meet you at the airport, and then drive to Kaili Ethnic Museum, where collects over ten thousand items of different ethnic groups including buildings, food and drink, costumes, festivals, etiquette, recreation, production, etc.


Day 2 Kaili-Leishan-Zhenyuan-Kaili
Meal(s): Breakfast, Lunch, Dinner
Attraction(s): Jidao Miao Village, Datang Mini-skirt Miao Village, Boken Northern Dong Village
Today Arrangement: After breakfast, spend this whole day in a few ethnic villages: Jidao Miao Village, Datang mini-skirt Miao Village and Boken Northern Dong Village.
Jidao Miao Village lies in the southeast of Mt. Leigong, about 20 kilometres from Kaili city. With the crystal clear Balahe River flowing by, the village cultivates 220 families with 1037 residents. All the villagers are of Miao Minority and have always been keeping their customs since their ancestors settled down on this intangible holy-land. The hundred-year-old barns and timbered houses catch the visitors' eyes most.
Datang, 15kms away from Leishan County, is a mini-skirt Miao Village located at the foot of Mt Leigong. When you enter the village, you will be greeted by the hospitable Miao people. The locals' silver ornaments are particularly attractive.
Over 90km west of Kaili City, there is a village named Boken where lives Dong people of about 2,000. Every year on the third day of the third lunar month, the Dong people in Boken village hold celebrations for their traditional spring sowing festival. The festival is the time for the youngsters to engage in the activities of asking for basket, which are going to warm two hearts. Girls in their best silver garments come to the love tree with shallot baskets and young men follow them to ask for a basket, which attracts large crowds of spectators. Cheers burst from the crowds if a young man gets the basket from a girl.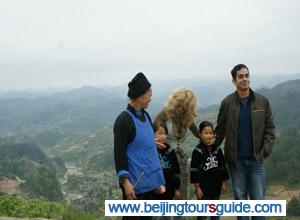 Our Clients with the Ethnic People in Guizhou
Day 3 Kaili-Guiyang-Beijing
Meal(s): Breakfast, Lunch
Attraction(s): Chongan Ge Village
Today Arrangement: Explore in the Chongan Ge Village in the morning, and then be transferred to Guiyang Airport for departure to Beijing. Chongan Ge Village is 50 km north of Kaili city with a population of 300 people. The Ge people are warm and hospitable. Even the unfamiliar guests from afar will be entertained with rice wine and delicious food. They are famous for their military garments and batik-making handicrafts. Houyi is regarded by the Ge people as a legendary hero who once shot down nine suns with arrow (in Chinese legends, there used to be 10 suns in the sky).
Be met at Beijing airport, transferred back to your hotel/apartment.