Day 1 Entry Beijing
Meal(s): Lunch at Courtyard 7 Restaurant
Attraction(s): Summer Palace, Olympic Green, Silk Factory
Today Arrangement: Our private English-speaking guide and driver will pick you up in time at the airport and transfer you safely to the hotel. A paper board with the sign of BeijingToursGuide.com and your name will be held high at the airport exit. After lunch, we drive to the Summer Palace, an exceptionally beautiful royal garden. A cruise in its Kunming Lake is arranged and will be a wonderful experience. Last, take an exterior visit for both of the Bird's Nest and Water Cube.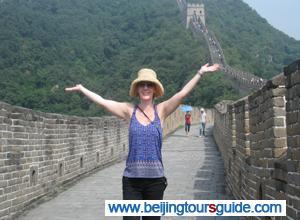 Our Client at Great Wall

Day 2 Beijing
Meal(s): Breakfast, Lunch at Xinshuangquan Restaurant
Attraction(s): Mutianyu Great Wall, Dingling Tomb, Jade Factory
Today Arrangement: Have a fresh morning in Mutianyu Great Wall, the most spectacular section of Great Wall but less crowded. A round way cable car helps you reach the wall. We spend the afternoon in the Dingling Tomb of the Ming Tombs. There you could see its underground palace which will thrill the tourists for its marvelous tomb construction and priceless relics.
Day 3 Depart Beijing
Meal(s): Breakfast, Lunch at Green Flower Porcelain Restaurant
Attraction(s): Tiananmen Square, Forbidden City, Temple of Heaven
Today Arrangement: Today in the morning, the guide will accompany you in the Tiananmen Square, the largest city square in the world and historically significant to China. Then transfer to Forbidden City, the majestic palace of Chinese emperors of Qing and Ming dynasties.
The tour sightseeing will finish at Temple of Heaven. After lunch, then you will be driven safely to the airport for departure. Wish you a pleasant journey home and thank you for using with Beijing Tours Guide.