Day 1 Entry Beijing
Today Arrangement: Our private English-speaking guide and driver will pick you up in time at the airport and transfer you safely to the hotel. A paper board with the sign of BeijingToursGuide.com and your name will be held high at the airport exit.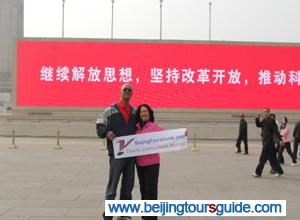 Our clients at Tiananmen Square

Day 2 Beijing
Meal(s): Breakfast, Lunch at Green Flower Porcelain Restaurant, Dinner at Quanjude Roasted Duck Restaurant
Attraction(s): Tiananmen Square, Forbidden City, Temple of Heaven, Silk Factory, Peaking Opera Show
Today Arrangement: A fresh morning goes in Tiananmen Square and its nearby Forbidden City. The former is the largest city square in the world and the latter is the world reputed palace of Chinese emperors.
After lunch, let's pay a visit to the Temple of Heaven, the place where emperors prayed for a good harvest to the Heaven.
Finally, you will enjoy the night gorgeous show of Peking Opera Show after Beijing duck dinner.
Day 3 Beijing
Meal(s): Breakfast, Lunch at Jindian Restaurant
Attraction(s): Badaling Great Wall, Summer Palace, Jade Factory, Olympic Green
Today Arrangement: It will become one of your unforgettable morning by visiting Badaling Great Wall, which has ever received many celebrities included President Nixon and Lady Thatcher.
After lunch, we come to the uniquely beautiful Summer Palace and experience a cruise in its Kunming Lake. Then is the Olympic Green where you could see the outside appearance of Bird's Nest and the Water Cube (going inside is not included).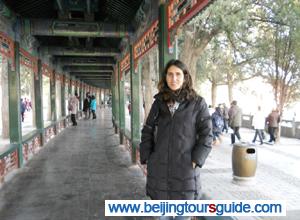 Our Client Shelialla at Summer Palace
Day 4 Depart Beijing
Meal(s): Breakfast, Lunch with Chinese Dumpling at Hutong family
Attraction(s): Beijing Zoo (Panda Hall), Hutong tour with rickshaw
Today Arrangement: Today morning, you could see the cute pandas in the Panda Hall of Beijing Zoo. Later, we will tour in the Hutong by rickshaw. Be seated in the rickshaws, we will pass through lines of Hutongs, and places of interests such as the Drum Tower and Bell Tower .Then pay a visit to the Hutong family, chat with them and have Chinese lunch there. You will learn more about Beijing people's life.
Finally, our guide and driver will transfer you safely to the airport for departure. Wish you a pleasant journey and thanks for using with Beijing Tours Guide.